 
HQ Trailer Hub Kit (Ford Bearings)
Trailer Hubs And Spare Parts Located At Cavan, South Australia.
Looking for great quality ADRs APPROVED trailer parts for your trailer or caravan? Look no further than the Quality Built and sourced range of trailer parts from BC Trailer Engineers. Conveniently located just outside of Adelaide for your Trailer, Boat Trailer or Caravan needs.
Ark Trailer Parts
BC Trailer Engineers stock a wide variety of Ark trailer parts and components. Trailer couplings, rims and a huge range of jockey wheels and stands are readily available in store along with a large selection of jockey wheel spare parts.
Features
Trailer hub kit with bearings and one piece seal, perfect for on road applications. Bearing cups come pre-installed. Grab some bearing grease in store and you're ready to go.
In The Box
1 x 6" HQ Trailer Hub

1 x Inner Bearing (L68149)

1 x Outer Bearing (LM12749)

1 x One Piece Seal

1 x Dust Cap

5 x 7/16" Wheel Nuts
Stud To Adjacent Stud Measurement & Wheel Stud Diameter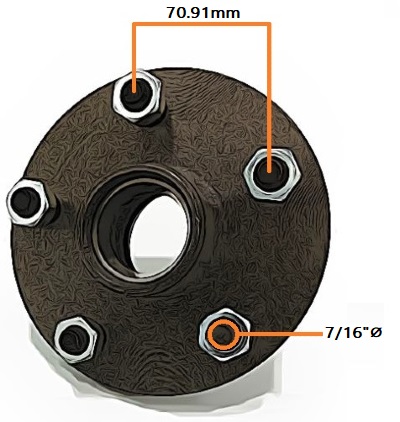 ** Trailer wheel stud measurements are taken from the centre of one stud to the centre of the adjacent stud as shown above.